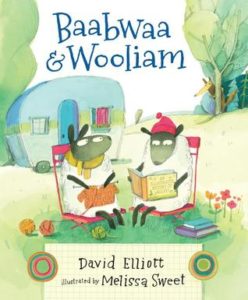 A Tale of Literacy, Dental Hygiene, and Friendship
Written by David Elliott, Illustrated by Melissa Sweet
Baabwaa is a sheep that knits. Wooliam is a sheep that reads. One day Wooliam decides that they need some adventure. They are in a field and can wander only so far. Soon another sheep approaches. This sheep does not look right and Wooliam soon recognizes the sheep as a wolf in sheep's clothing. (Just like the stories.) The wolf wants to hear more about stories and how to read. Can a sheep teach a wolf new tricks?
Review by Diann Cox, Farnsworth Elementary Media Center
Rating: ★★★½✩ (3.5 stars)
Interest Level: Grades 2-4
Baabwaa & Wooliam
Written by David Elliott, Illustrated by Melissa Sweet
Candlewick Press
40 pages
Release Date: September 12, 2017
A review copy was provided by the publisher.
Tags:
2017 Picture Books
,
Adventure Picture Books
,
Baabwaa & Wooliam
,
David Elliott
,
Diann Cox
,
Friendship Picture Books
,
Knitting Picture Books
,
Melissa Sweet
,
Reading Picture Books
,
Sheep Picture Books
,
Wolves Picture Books