Sora's latest Big Library Read is the award-winning young adult fantasy novel A Snake Falls to Earth by Darcie Little Badger. It is available for instant, unlimited reading and listening (no waitlists or holds) for Granite students in Grades 6-12, as well as all Granite staff members, from November 2-16, 2022.
Log in to Granite's Sora at https://soraapp.com with your student number or staff username and current password to get the book today!
Parents and other community members can access this Big Library Read through the Salt Lake County Library.
A Snake Falls to Earth Details and Resources
Of A Snake Falls to Earth, Big Library Read says,
Nina is a Lipan girl in our world. She's always felt there was something more out there. She still believes in the old stories.

Oli is a cottonmouth kid, from the land of spirits and monsters. Like all cottonmouths, he's been cast from home. He's found a new one on the banks of the bottomless lake.

Nina and Oli have no idea the other exists. But a catastrophic event on Earth, and a strange sickness that befalls Oli's best friend, will drive their worlds together in ways they haven't been in centuries.

And there are some who will kill to keep them apart.

Darcie Little Badger introduced herself to the world with Elatsoe. In A Snake Falls to Earth, she draws on traditional Lipan Apache storytelling structure to weave another unforgettable tale of monsters, magic, and family. It is not to be missed.
As part of the Big Library Read, Sora/OverDrive has provided a Discussion Guide for the book, and on their TeachingBooks page for A Snake Falls to Earth they have author interviews, book talks, activities, and other resources available.
Big Library Read Posters and Graphics
The poster below includes a QR code that links directly to the Big Library Read page in Granite's Sora. Click "Download" for a printable PDF version, or right-click and choose "Save Image as" for a file that can be posted on a school, library, or classroom website or social media post. You can also visit https://biglibraryread.com/marketing-materials/ for more graphics and resources to promote the Big Library Read.
About Granite's Sora
Want more information about Sora? Have a suggestion for a book we should purchase? Visit our dedicated Sora help page for Granite students and staff at sora.edtech.fun.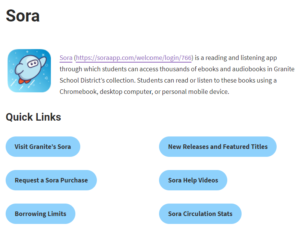 Also, check out our Sora New Releases and Features page for more collections and posters for new and featured ebooks and audiobooks in Granite's Sora.
Tags:
2021 YA Fiction
,
Big Library Read
,
Darcie Little Badger
,
Fantasy Fiction
,
Library Promotions
,
Lipan Apache Fiction
,
Mythology Fiction
,
Native Americans Fiction
,
Sora New Releases and Features