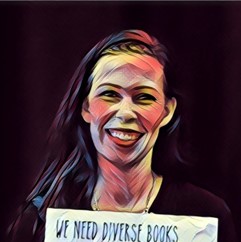 Deborah has been a media clerk at Twin Peaks Elementary for three years.

What books are currently on your nightstand?

I have been trying to get through some Larry Correia Monster Hunters books.  I am also trying to get some of the books from Battle of the Books read.  They are great stories!
What was the last great book you read?

I enjoyed the Missing on Superstition Mountain series by Elise Broach.  For adult reading?  Books by David Gemmell.  I'm a fantasy geek.
The last book that made you cry?

The Giving Tree by Shel Silverstein.  I read it last year to the students.  The teachers breaking down got to me!
The last book that made you laugh?

The Book With No Pictures by B.J. Novak.  Maybe it's just the kids giggling, but I can't help but laugh.
What kind of reader were you as a child? What childhood books and authors stick with you the most?

I was a reluctant reader.  I don't think there was a big push in my home.  My kids however, have had reading as part of their nighttime routine from a small age and love it!

What is the best book you were required to read as a student?

I don't know if there was a favorite.  Lord of the Flies by William Golding sure stayed with me though…and Brave New World by Aldous Huxley.
What book did you hate reading as a student?

I can't really remember anything that I ever really hated.  I tried to find value in it all.
What is your favorite book to recommend to children?

Harry Potter and the Sorcerer's Stone by J.K. Rowling, books by Gail Carson Levine, and Rain Reign by Ann M. Martin.
If you could only bring three books to a desert island, which would you pack?

Harry Potter and the Order of the Phoenix, Harry Potter and the Half-Blood Prince, and Harry Potter and the Deathly Hallows by J.K. Rowling.
Tags:
Book Recommendations
,
By the Book
,
Deborah Daines