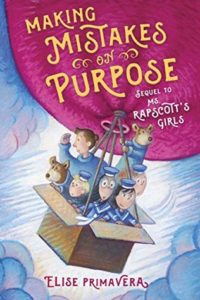 Ms. Rapscott's Girls, #2
Written by Elise Primavera
This is the second book in a series, but can stand alone. I thoroughly disliked the Rapscott girls in the beginning because they were selfish individuals who belong to busy parents who failed to teach them good manners. Thus, I love Ms. Rapscott, who teaches these girls valuable lessons that they do not get at home.
Throughout the story the girls are trying to go far in life and get to the top, a place where all your dreams come true. On this adventure they learn how to care for others and that life is not always fair. As a result, each character slowly becomes a kinder individual towards others. I love the whimsical feel this story possess and the important messages that are taught within its pages. Elise's writing style reminds me of Roald Dahl, who once said, "A little nonsense now and then, is cherished by the wisest men."
Review by LeeAnne Neilson, Academy Park Elementary Media Center
Rating: ★★★✩✩ (3 stars)
Interest Level: 2nd-4th grade
Making Mistakes on Purpose
Written by Elise Primavera
Dial Books for Young Readers
354 pages
Release Date: October 11, 2016
A review copy was provided by the publisher.
Tags:
2016 Middle Grade Fiction
,
Adventure Fiction
,
Boarding Schools Fiction
,
Conduct of Life Fiction
,
Eccentrics Fiction
,
Elise Primavera
,
LeeAnne Neilson
,
Life Skills Fiction
,
Making Mistakes on Purpose
,
Ms. Rapscott's Girls
,
Teachers Fiction