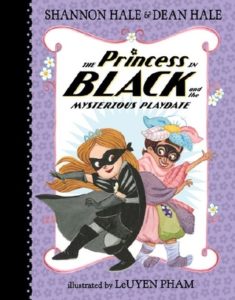 The Princess in Black, #5
Written by Shannon Hale and Dean Hale, Illustrated by LeUyen Pham
The Princess in Black is one of my favorite early reader series. The students enjoy the series too. This was one of my favorites in the series. I liked the messages of friendship, teamwork, and that we all have strengths. Just a great series that both boy and girl early readers will enjoy.
Review by Vanessa Eyre, Robert Frost Elementary Media Center
Rating: ★★★★✩ (4 stars)
Interest Level: Grades K-3
Princess Magnolia and Princess Sneezewort have plans . . . mysterious plans, like a princess playdate! They dress-up slam! They karaoke jam! They playhouse romp and snack-time stomp! But then a shout from outside Princess Sneezewort's castle interrupts their fun. It's a monster trying to eat someone's kitty! This is a job for the Princess in Black. Yet when the Princess in Black gets there, she finds only a masked stranger and no monster in sight . . . or is there? Action and humor abound in this ode to friendship that proves that when shape-shifting monsters intrude on your plans, two heroes are better than one.
–From the publisher
The Princess in Black, #5
The Princess in Black and the Mysterious Playdate
Written by Shannon Hale and Dean Hale, Illustrated by LeUyen Pham
Candlewick Press
87 pages
Release Date: September 5, 2017
A review copy was provided by the publisher.
Tags:
2017 Children's Fiction
,
2017 Easy Chapter Books
,
Dean Hale
,
Friendship Fiction
,
Goatherds Fiction
,
Leuyen Pham
,
Monsters Fiction
,
Princesses Fiction
,
Shannon Hale
,
Shapeshifting Fiction
,
Superheroes Fiction
,
The Princess in Black
,
The Princess in Black and the Mysterious Playdate
,
Vanessa Eyre