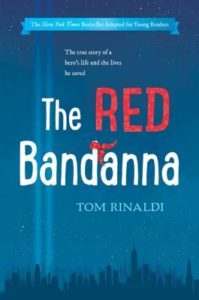 Read this book in Granite's OverDrive Digital Library
Young Readers Adaptation
Written by Tom Rinaldi
Welles Crowther was an ordinary person who touched many lives. Welles had always dreamed of being a firefighter, but went to college and started a Wall Street career. He worked on the 104th floor of the South Tower. Welles had decided he was ready to follow his dreams. Then September 11, 2001 came and lives were forever changed. Welles was one of those who led people out and never made it out himself. He stayed to help the other firefighters. And how did people know it was Welles who helped them? By the red bandanna he always carried! I thoroughly enjoyed this book. Welles is an inspiration to us all…ordinary people doing extraordinary things one day at a time.
Review by Diann Cox, Farnsworth Elementary Media Center
Rating: ★★★★½ (4.5 stars)
Interest Level: Grades 4th and Up
The Red Bandanna
Written by Tom Rinaldi
Viking, an imprint of Penguin Random House LLC
162 pages
Release Date: September 1, 2017
A review copy was provided by the publisher.
Tags:
Biography
,
Courage
,
Diann Cox
,
firefighters
,
Heroes
,
New York City
,
September 11 Terrorist Attacks
,
terrorism
,
The Red Bandanna
,
U.S. History
,
Welles Crowther
,
World Trade Center
,
Young Reader Adaptations