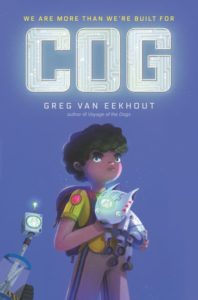 Written by Greg Van Eekhout
What if a robot could be programmed to think and feel and make independent decisions? That is the secret project that Gina, an employee at uniMIND, is experimenting with, and Cog is her robot. Although Cog enjoys learning and processing information, he quickly comes to understand that consequences also accompany choices. His choice one day to run into a road and rescue a Chihuahua from being hit by a pickup truck greatly alters the comfortable life he has known and leads him on a series of adventures to find Gina. Greg Van Eekhout does an excellent job of telling this story from a robot's perspective and creating some interesting characters and adventures.
Reviewed by Christine Neilson, Hillside Elementary Community Member
Rating: ★★★★✩ (4 stars)
Interest Level: Grades 5 and Higher
A review copy was provided by the publisher.
Author Website: http://writingandsnacks.com/
Cog
Written by Greg Van Eekhout
Harper, an imprint of HarperCollinsPublishers
196 pages
Release Date: October 1, 2019
ISBN: 9780062686077
Tags:
2019 Children's Fiction
,
Christine Neilson
,
Greg van Eekhout
,
Robots Fiction
,
Science Fiction
,
Survival Fiction
,
Voyages Fiction