Susan Brough is a media clerk at Monroe Elementary in West Valley City, UT.
What books are currently on your nightstand?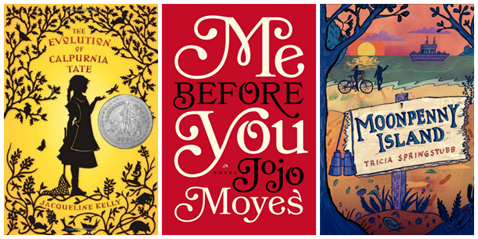 The Evolution of Calpurnia Tate by Jacqueline Kelly, Me, Before You by Jojo Moyes, and Moonpenny Island by Tricia Springstubb
What was the last great book you read?

Walk Two Moons by Sharon Creech
The last book that made you cry?

Me Before You and The Notebook by Nicholas Sparks
The last book that made you laugh?

A Long Way from Chicago and A Year Down Yonder by Richard Peck, Austenland by Shannon Hale, and Sisters Grimm by Michael Buckley
What kind of reader were you as a child? What childhood books and authors stick with you the most?

I enjoyed Nancy Drew Mysteries by Carolyn Keene, Charlotte's Web E.B. White, and Little House on the Prairie by Laura Ingalls Wilder.
What is the best book you were required to read as a student?

I am drawing a blank!
What book did you hate reading as a student?

Lord of the Flies by William Golding
What is your favorite book to recommend to children?

Moon Over Manifest by Clare Vanderpool, Listening for Lions by Gloria Whelan, Way Down Deep by Ruth White, the Mercy Watson series by Kate DiCamillo, Three Times Lucky by Sheila Turnage, The Penderwicks by Jeanne Birdsall, and the Sisters Grimm series by Michael Buckley
If you could only bring three books to a desert island, which would you pack?

The Book of Mormon, the entire series of Harry Potter by J.K. Rowling, and any book from the list I recommended for children.
Tags:
Book Recommendations
,
By the Book
,
Susan Brough