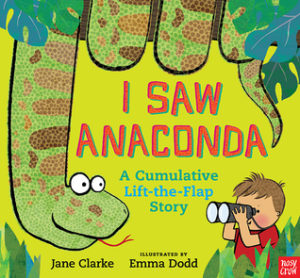 A Cumulative Lift-the-Flap Story
Written by Jane Clarke, Illustrated by Emma Dodd
I Saw Anaconda by Jane Clarke and Emma Dodd is a fun and creative cumulative rhyme that follows the same vein as There Was an Old Lady Who Swallowed a Fly. In this picture book made for early readers a young boy witnesses an Anaconda swallow a tick, which immediately makes her sick. He then observes the Anaconda try to chase the tick with a skink, and then a frog, and so on. The boy cannot help but think, "Will she be sick!"
This book is perfect for children between the ages of 3-7. The pictures are cartoony and filled with bright attention grabbing colors. There are also flaps on each page to keep the reader's attention. (This will work great during classroom story time, but be prepared with tape if you circulate this book in your library.)
I Saw Anaconda works well with curriculum. I could see the book being read before a unit on animals or before a unit on South America. It might be fun to use this book in a high school English/writing class as students learn about cumulative verse and the structure and stanzas of those rhymes/songs.
Review by Alyssa Carraway, Granite Educational Technology Dept.
Rating: ★★★★✩ (4 stars)
Interest Level: K-1 Grade
I Saw Anaconda: A Cumulative Lift-the-Flap Story
Written by Jane Clarke, Illustrated by Emma Dodd
Nosy Crow
24 pages
Release Date: August 1, 2017
A review copy was provided by the publisher.
Tags:
2017 Picture Books
,
Alyssa Carraway
,
Anaconda Picture Books
,
Animals Picture Books
,
Cumulative Rhyme
,
Emma Dodd
,
Gluttony Picture Books
,
I Saw Anaconda
,
Jane Clarke
,
Lift-the-flap Books
,
Rain Forest Picture Books
,
Snakes Picture Books
,
South America Picture Books
,
Stories in Rhyme